Hluhluwe game reserve


The Rhino capital of Africa

Hluhluwe game reserve was once the private hunting grounds of Zulu kings such as Dingiswayo and Shaka. This reserve is part of the northern section of the Hluhluwe Imfolosi National Park.
The Hluhluwe game reserve is characterized by hilly topography and its wide variety of both bird and animal life.
This reserve is located in the heart of Zululand and claims to be the oldest game reserve in Africa.
The northern part of the 96 000 hectare park is more rugged and mountainous with forests and grasslands, while the south and west is more undulating with open savanna.
The Hluhluwe game reserve offers you a range of activities, which vary from self-guided walks, and auto-trails to game drives.
The viewing hides overlook pans and waterholes which allows you to see the animals at close range.
Hluhluwe Widlife Highlights
Good water resources and high quality vegetation sustains large populations of herbivores like
giraffes,

wildebeests,

zebras,

impalas,

kudus and

nyalas in the Hluhluwe game reserve.
You are very likely to see most of the big five i.e. lions, leopards, elephants, buffaloes and both white and black rhinos.
Rhino conservation - Due to conservation efforts, the park now has the largest population of white rhino in the world.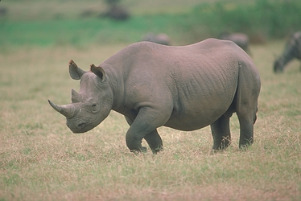 Hluhluwe game reserve game reserve is particularly famous for its conservation of black and white rhino. This was an initiative that certainly saved the white rhino from certain extinction.
Today the reserve contains hundreds of endangered black rhino and the largest population of white rhino in the world.
In this sanctuary the white rhino numbers have blossomed from only 25 at the end of the 19th century to over 9000 today in South Africa alone.
Today the Hluhluwe game reserve is home to over 1800 of these animals, which is far more than the combined total of all other African countries.
The results is that your chances of seeing some of these animals during your visit is virtually guaranteed.
Black rhinos have a reputation for having a bad tempers. They are likely to attack if taken by surprise.
If you encounter them on a walking safari it is a good idea to move very quietly so that they have plenty of warning of your approach and have a chance to move away.
Cows with calves are especially dangerous and will charge under almost any circumstances when feeling threatened.
Rhino eyesight is extremely poor and not very effective for stationery object even just a few meters away from them.
Their hearing is however very acute and their sense of smell is very keen. When there is wind in their favor they can probably smell a human from at least 200 meters away.
White rhinos often wallows in water and mud to cool off in hot weather and to remove parasites. They usually rest in thickets to avoid the hot midday sun.
Rhino watching tip

Rhinos are fairly evenly distributed throughout the reserve, but they usually favor the low-lying wooded grasslands to the higher lying hills.
Look out for them at the waterholes along the main route from Memorial gate to Hilltops camp.
African Wild dog conservation
A relatively new addition of African Wild Dogs seems to be flourishing.
At one point there were only a single figure number of these animals in the region. There are currently about 80 individuals in the reserve.
These highly social animals can be seen in packs that average from 12 to 20. They are probably the most efficient hunters in Africa.
African wild dogs are great wanderers and they can move enormous distances in a day.
The only time you are likely to see them frequenting a certain area will be when their pups are young and confined to a den.
African wild dog watching tip

Because they are usually on the move, your best chances of seeing them are to ask about recent sightings at the camp reception.
Birds in Hluhluwe Game reserve
In excess of 400 species of birds have been recorded in the Hluhluwe game reserve.
The variety of habitats within the area is one of the main reasons why the Hluhluwe-Imfolozi game reserve is one of the prime birding destinations in South Africa.
From the Hilltops Camp you will have an excellent opportunity to view a number of raptors including the martial eagles, crowned eagles and various vultures.
Martial eagles are versatile hunters who hunt mostly by soaring high overhead in search of prey, which they can observe from 5-6 kilometers from above.
Elephants and buffaloes
You should not have difficulty in spotting elephants and buffaloes in this reserve.
If you have a map try to find the Sontuli and Okhukho loops in iMfolozi to track them down.
These loops along the iMfolozi river is the regular path the elephants follow when they move between iMfolozi (South) and Hluhluwe (North).
If you move along the river you will notice various lookout points along the way that provide excellent opportunities to spot these animals.
You may see the main breeding herd which consist of up to 100 elephants.
During these sightings you are also likely to notice buffalos, which also use this river course.
During the heat of the day they usually take refuge along the reeds lining the riverbanks.
Spotting the carnivores -Lions, leopards, hyena
To avoid the heat of the day most of these animals are most active at night.
Lions sleep away most of the day because it is usually too hot to hunt. Sunlight also foils most efforts to sneak up on prey.
If you want to see lions, leopards and spotted hyenas in action, your best bet is to go on a guided night drive.
These open vehicle night drives provide unique opportunities of viewing these animals when they are most active.
Using hides to spot less conspicuous wildlife
Summer here can become very hot and it is also the main rainfall period.
The result is that the bush vegetation gets very lush which can make wildlife watching more challenging.
The dry period is from June to October when the animals become more visible.
We find that the numerous hides are frequently the most rewarding way to observe these animals in the Hluhluwe game reserve.
The best time to do this is between June and October when the rivers are low.
The water holes can however run dry and it is usually a good idea to ask staff at the reception desk about that before you head out to one of the hides.
Ask for the location of the Thiyenu hide, which is probably best lookout area.
Rhinos usually take the opportunity to wallow in the mud in this area.
Lookout for warthogs and buffaloes using the scratching posts on the opposite bank to remove ticks and parasites.
Hluhluwe Game reserve suggested activities
The Hluhluwe game reserve has 200 kilometers of wildlife watching roads.
Auto trails
There are two self-guided auto trails, for those wishing to discover the magic of the bush from the privacy and convenience of their own vehicles.
Day walks
Short day walks of approximately two hours are conducted from Mpila and Hilltop Camps under the supervision of a knowledgeable field ranger.
Game drivers
Open vehicle night and day drives provide good opportunities of viewing game. A knowledgeable guide is always available to answer all your questions.
Wilderness trails
Available from mid-March to mid-December , Wilderness Trails in Imfolozi offer an unforgettable bush experience.
The trail is a three-day hike into the heart of the 30 000 ha Wilderness area. The first and last nights are spent at Mndindini Trails Camp overlooking the White Mfolozi River, while the second and third nights are spent in a tented camp in the heart of the Wilderness area. Trailists are accompanied by an experienced game ranger.
Weekend wilderness trails
Weekend wilderness trails begin at 13:30 on Friday afternoons and end on Sunday afternoons, with two nights spent in the bush, at a tented camp.
Designed for those unable to find time for the full wilderness trail, these trails cost half the price of the traditional trail, and are also run from mid-March to mid-December
Boat Tours
There is a 40 seater boat on Hluhluwe dam which takes visitors on guided trips twice a day. It can however happen that the water level of the river is sometimes too low for boat trips.
This tour provides you excellent opportunity to see a wide range of birds and animals within the park.
When to go


Summer here is very hot and also the main rainfall period.
The dense vegetation at this time can make viewing of some wildlife difficult.
June to October is the dry period and the best time to see the wildlife when they are most visible.
The common herbivores like the blue wildebeest, giraffes, zebras, waterbucks, nyalas, eland, kudu, impala (apparently some 24000 in number), duiker and warthogs can be seen in most places in the reserve.
Hluhluwe Accommodation


Accommodation is available at:

Hilltop Camp
Mtwazi Bush Lodge
Muntulu Bush Lodge
Manywaneni Bush Lodge
Hilltop Camp
This camp is a past winner of the British Airways Tourism For Tomorrow Award. It offers fine views of the surrounding countryside. The camp was extensively rebuilt and enlarged in the early nineties. A forest trail is available to guests at Hilltop.
Accommodation at Hilltop ranges from a luxury lodge to a variety of self-catering accommodation facilities. All units are serviced daily. Facilities include:
twenty 2-bedded rondavels with communal ablutions and kitchens;
seven 2-bedded and twenty-two 4-bedded self-catering chalets;
Twenty 2-bedded chalets, which are not self-catering. This area includes an a la carte restaurant and an attractive pub and lounge.
The Mpunyane Restaurant offers a full English buffet breakfast every day. Lunches are a la carte and on Sundays a hot and cold buffet. Dinners are either a hot and cold buffet or a traditional braai (barbeque) depending on the weather.
Mtwazi Bush Lodge
Mtwazi Lodge is close to Hilltop Camp, and boasts a magnificent setting under a large sycamore fig within its own secluded bushveld garden.
The accommodation here comprises three bedrooms each with its own private bathroom. Mtwazi is a self-catering facility which is serviced once a day. The services of a cook are provided. Visitors also have the option of eating in the camp restaurant.
A large lounge and dining area lead out onto a large veranda, and from there into a magnificent tropical garden.
Muntulu Bush Lodge
If you want to rough it in style you should consider the of Muntulu Bush Lodge.
Set on an elevated bank, the lounge looks down onto the Hluhluwe River where a variety of animals, including elephant and rhino, gather daily to quench their thirst.
The camp consists of four two-bed units with en-suite bathrooms that are linked by wooden walkways to the central lounge and dining area.
Visitors needs are attended to by staff who cook and clean and a field ranger who, on request, takes visitors on guided walks.
Visitors must bring their own food from which the cooks can produce a variety of tasty meals.
Limited supplies of food and drink can be purchased at the shop at Hilltop Camp that is a half hours drive away.
Manywaneni Bush Lodge
The Hluhluwe game reserve is in a malaria area so suitable precautions must be taken.
This bush lodge overlooks the confluence of the Hluhluwe River and the Munyweneni Stream providing you with a great game viewing opportunity.
The large Sycamore figs drop sweet fruit onto the bank which attracts families of bush pigs.
An open plan lounge and dining area adjoins four two bed-sleeping units with en-suite shower and toilet.
Visitors needs are attended to by staff who cook and clean and a field ranger who, on request, takes visitors on walks.
You must bring your own food. The local cooks can produce a variety of tasty meals.
Like this page?