The Hippopotamus - is this really the most dangerous African animal?


Hippo facts
Hippo pictures

The hippopotamus has the reputation of being the most dangerous wild mammals in Africa.
Based on human fatalities, this reputation is probably well deserved.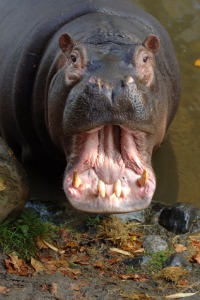 One thing that must be remembered is that unlike most land animals that usually have many escape options, these animals have a relatively small area to escape to in their "water homes".
If they get frightened on land they charge back to the safety of water and trample anything that comes in its way.
On land a hippopotamus can reach a top speed of 40 kilometers per hour and they are surprisingly agile.
To get between this animal and water is to risk being trampled as it tries to get to safety. Yawning displays is a dominance signal and a clear signal for intruders - including you - to stay away.
How do I spot a Hippopotamus when I am on an African safari?
Shape and size
You can't miss them.
They have an unmistakable shape and size with adults weighing in at around 1500 kg.
They are the third-largest living land mammal in Africa, after elephants and white rhinos.
The plump and bulky body is set on short, stumpy legs.
Look for water boulders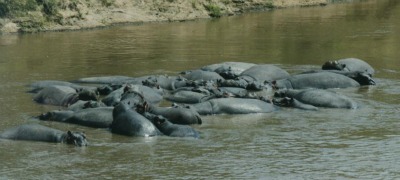 They prefer water where there are gently sloping banks. When viewing these African animals in water you will see only the tops of their heads and backs exposed.
During the day they have to spend their days submerged in water, which must be at least 1,5 meters deep because on land they overheat and dehydrate.
These "river pigs" can submerge themselves under water for up to six minutes.
Animals sweating blood ??
They suffer from sunburn, which cracks their skin. One of the strangest possible sights you will see on an African Safari is that an overheated hippo looks as if it is sweating blood.
These are mucus glands in their skin that contains a red pigment. This mucus acts as a very effective sunscreen.
If you do your African safari on overcast cool weather days in summer or warm, sunny weather days in winter you are very likely to see them sunning themselves on riverbanks.
You are likely to see a them wallowing in mud holes only when there is no water available.
Baby hippos
Infants are very playful.
If you are lucky enough to spot calves on your African Safari you will see them indulging in play fights and pushing contests.
Night drives
If you go on a guided night drive safari you can spot them grazing on land.
They signpost their pathways with dung piles.
What Social behavior does Hippos exhibit?
The basic unit of hippopotamus society is a group of up to 30, containing females with their baby hippos.
They are lorded over by a single dominant bull that has gained his position by being successful in combat against other males.
This gives the bull exclusive access to the females in his group. The groups are territorial, each occupying a stretch of river or lake.
The herd bull is extremely aggressive to challengers. He marks his territory, by splattering dung onto rocks and bushes.
At frequently marked spots dung can accumulate into heaps half a meter deep. By defecating in the water they inject important quantities of energy and organic matter into the aquatic food pyramid.
Like this page?

Where and when do hippopotamuses feed?
Why do Hippopotamuses have those big teeth?
Information about baby Hippos
Are these animals' threatened African animals?