Cheetahs - Discover some interesting facts about the fastest land mammal on earth

When you see a cheetah stalking its prey on an African plain you will notice how the body of this animal is built for speed.
The long and slender body of a cheetah consists of small and light frame.
The spine is very flexible - much like a whip.

How fast can a cheetah run?
Cheetahs are equipped for explosive acceleration to a full-speed of up to 90 kilometers per hour over a short distance.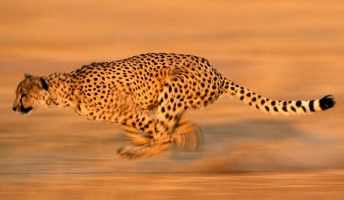 Fastest recorded cheetah ever

In February 1999 a South African cheetah called Nyana was officially timed running 100 meters in a record of 6,08 seconds.
It accelerated from 0 to 80 kilometers per hour in 3,6 seconds.
What habitat does cheetahs prefer?
Cheetahs prefer open grassland and savanna woodland as their favorite habitat.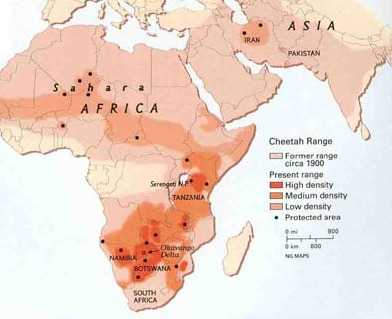 Image credit: Connif and Johns

They typically avoid forest and woodland with thick undergrowthas habitat.
They can operate independent from water.
Cheetah taxonomy
Kingdom - Animalia

Phylum - Chordata


Class - Mammalia


Order - Carnivora


Family - Felidae


Genus - Acinonyx

Are these African animals very social?
Adult females are usually solitary, but their cubs stay with them for up to 18 months.
The males often live in small, stable groups called coalitions.
Cheetah coalitions consist of brothers born in the same litter.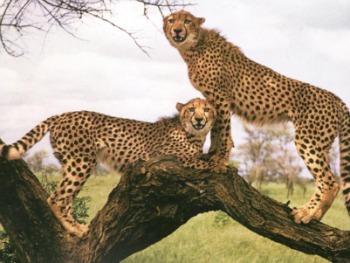 Cheetah facts indicate that on their own, the males have little hope of establishing a territory but in coalitions they have a good chance of securing turf.
This small group will live and hunt together for life.
They will claim a large area, which may overlap several female territories.
Some males hold territories for up to four to six years.
Coalitions are more successful at establishing and holding territories than are single males.
Cheetah territories are scent-marked with sprayed urine.
If the marks are more than a day or two old intruders ignore them and so some areas are used on a 'time-share' basis.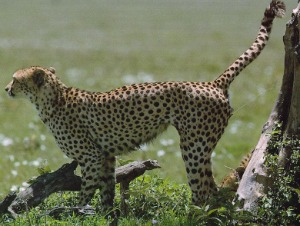 Trespassers who get caught are savagely attacked and sometimes killed.
Large rocks and trees provide traditional marking sites.
What sounds do cheetahs make?
They use high-pitched, bird-like chirrups as short-range greeting and contact calls.
They give a loud purr when content.
When threatened they give a loud, barking growl and snarl, often slapping the ground with their forepaws at the same time.
How do cheetahs breed?
Males track down a female in heat from the smell of her urine. Their first approaches are aggressively rebuffed.
During this period the males spray-mark heavily and fight among themselves for mating rights.
They also scratch up small mounds of loose soil and urinate or defecate on top of them.
After one to two weeks of such courtship the female becomes receptive and she invites copulation by crouching in front of a male.
He mounts her from behind with a neck bite. Mating is not as frequent as in other cats.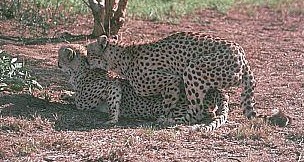 Are cheetahs an endangered specie?

These African animals are rare wherever they occur.
There are currently only about:
200 in the Kruger National Park,




50 – 75 in the Etosha National Park and

 60 in the Kalahari Gemsbok National Par

k.
They are one of ecotourism's big seven.
Are cheetah cubs vulnerable to other predators?
Cheetah predators

In the Serengeti lions kill about 70% of the cubs and only 5% live to independence.
Cubs are born blind and helpless and are carefully hidden by their mother in dense cover.
The cubs are very vulnerable to predation and are frequently moved to avoid predators.

They also fall prey to spotted hyenas and leopards.
The cubs get their first solid food at about six weeks and are weaned at three months.
At four to five months their mother brings them live prey to practice their hunting skills on.
At between six or seven months they begin to make their own kills.
For their first three months cubs have a mantle of long, grey hair.
It is thought that this makes them look enough like the ill-tempered honey badger (ratel) to dissuade other predators from risking an attack.
Like this page?