Is the African buffalo a dangerous animal?

The reason early trophy hunters included the African buffalo, as one of the big five is that they were considered to be one of the most dangerous species to hunt.
When hunted by humans, buffalo have a reputation for circling back on their pursuers and counter attacking.
Old buffalo males tend to wander solitary or to form small groups of up to about half a dozen and are probably more easily provoked into an attack.
The reason for this relates to the fact that they lack the safety in numbers of the bigger herds.
Buffalo in herds are placid, although some of the old bulls in the heards tend to be easily angered and prone to charge when disturbed.
How is dominance established in a large herd?
The pecking order is established when the bulls start with a number of ritualized threats.
You can observe the intention to confront is signaled by a head high pose with its nose pointing downwards and its shoulders hunched.
If the bull wants to emphasize its size it may stand sideways to its opponent.
A submissive buffalo will hold its head low and horizontal so that its horns are back.
If the two animals are very close together the submissive bull will put its nose under the belly of its superior.
More intense threat displays involve head-tossing, short chases, horn hooking and soil gouging.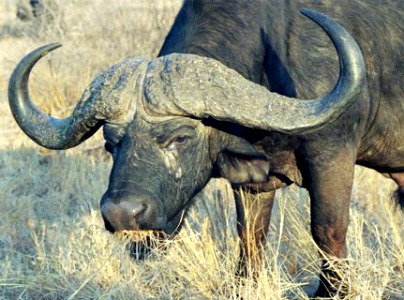 Occasionally a full-scale fight is necessary.
At this time the combatants will charge each other with their heads up and at the last moment lower their heads for a bone-crunching crash.
The weaker bull will be pushed sideways and immediately breaks and runs to avoid a horn in the flank.
When two 800-kg African buffalo bulls charges each other head-on the impact is equivalent to a car hitting a wall at 50 km/h.
It is thus not very surprising that nearly all fights are usually finished after the first full-scale charge.
Buffalo are very gregarious and live in large herds containing up to a few thousand animals of both sexes and all ages.
Some of the young bulls form bachelor groups.
The largest herds are seen during the dry season.
Old males tend to wander solitary or to form small groups of up to about half a dozen.
Who are their most important predators?
Lions are their most important predators but spotted hyenas also take them as food.
In the Savuti buffalo are 41% of lion kills in the dry season.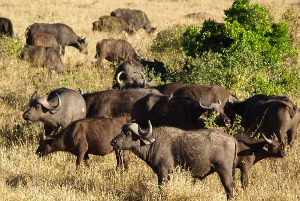 What are the privileges of a high social ranking in buffalo circles?
High rank provides the privilege of traveling and feeding in front and at the center of the herd.
Why would this be important?

Practically this means obtaining the best grazing and in addition maximum protection from predators.
The low-ranking animals at the back have to graze what the herd leaves behind and also suffer most heavily from predation.
Like this page?

Want to know some more cape buffalo facts?

Are Cape buffaloes territorial?
What is their preferred habitat?