Is the black rhino an aggressive and bad tempered animal?



The black rhino does indeed have a reputation for having a bad temper.
They can charge at 50 km/h, and are most likely to attack if taken by surprise.
If you are on a walking safari in areas where they occur it is a good idea to move very quietly so that they have plenty of warning of your approach and have a chance to move away.
Cows with calves are especially dangerous and will charge under almost any circumstances when feeling threatened.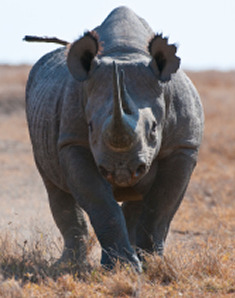 Are black rhinos very territorial?
They live in overlapping home ranges of about four to seven kilometers in Hluhluwe Game Reserve.
Dominant males may tolerate other males if they remain submissive.
Adult males are mostly solitary.
Their home ranges are not defended when population density is low and so do not really qualify as territories.
It may well be that their scent marks act mainly as signposts for its own use.
They scent mark by defecating in dung middens and with urine.
The males spray backwards between their legs into bushes while standing still.
Females spray, rarely but if they do, they do so while on the move.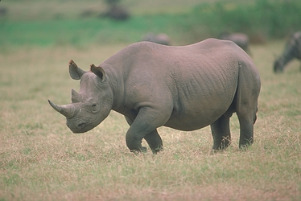 After defecating in a midden they scrape the ground strongly with their back feet.
It is thought that this is a way for them to pick up the smell of the midden on their feet and to then subsequently tread it into the pathways of their home range.
Some middens may be shared by a number of Rhinos and serves as communication posts.
Passing rhinos will typically sniff the previous deposit before adding its own dung.
They can probably pick up information about one another from the smells left there.
How do rhinos keep cool?
They wallow in water or mud to keep themselves cool and to get rid of parasites.
During the midday heat they will rest in the shade. You will occasionally see them wallowing in mud pools.
Rhinos also move around and feed more at night when it is much cooler and more energy efficient.
What are rhino senses like?
Their eyesight is extremely poor and not very effective for stationery object even just a few meters away from them.
Their hearing is however very acute and its sense of smell very keen.
When there is wind in their favor they can probably smell a human from at least 200 meters away.
How do rhinos settle their differences?
Fights between these African wild animals are rare because they mostly avoid each other.
Fights can occur when two bulls are courting the same female.
Some disputes are settled without physical combat.
This happens when one male leaves in response to a no nonsense stare from the other or when there is a charge from the one bull.
If two bulls do however come to blows they fight with sideways blows of their heads and horns.
Fights can become vicious and battle wounds is the main cause of death among eight- to ten- year-old adolescent bulls.
What sounds do they make?
During fights they grunt and growl. If startled they give repeated explosive loud snorts.
A female calls her calf with a high-pitched mew and the calf calls her with a squeal.
Want to know some more black rhinoceros information?

What does a  black rhinoceros eat?
How do black rhinoceros breed?
Are the calves vulnerable to predators?
Why are rhinos poached so heavily?
Is black rhinoceros endangered specie?
What is their preferred habitat?
Like this page?