Is it a fact that the African lion male is a lazy and useless hunter?



In many prides African lion males do not hunt.
The reason for this is that their manes and large size make them more conspicuous and less successful in the hunts than lionesses.
These males live mainly off the efforts of their females.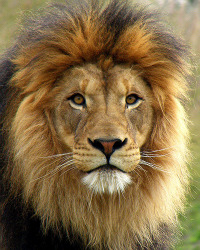 They use their dominant status to take food from the females.
This does not however mean that male lions lack in hunting skills.
Males have to fend for themselves both before they take over a pride and after they have been displaced from one.
Young males may form small bachelor groups that hunt together.
Lone males are restricted to smaller, easier prey such as warthogs and porcupines and the young of other species.
When you see old, solitary males that are peppered with black spots it is most probably scars from porcupine quills.



Did you know that the African lions are the only cats that live in close knit social groups?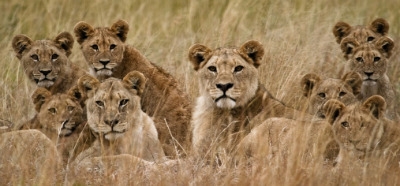 If a small group of males stay together they are able to drive out the resident males of a pride and will so take over the females.
These displaced male lions are not likely to live long since they no longer have the luxury of females available to hunt for them.
After a takeover the new males will also kill any lion cubs in the pride.
What habitat do lions prefer?
They have no specific habitat preference so they can be encountered anywhere, except in forests.
Lion habitats include open plains, woodlands, thick bush and semi desert.
The good news for the African safari tourist is that this means that they are not that difficult to find.
They are abundant in large reserves.
When is the best time to see them on an African Safari?

You will often find lions lying in the open field and see that they are mostly very tolerant of vehicles.
To avoid the heat of the day they lions are most active at night.
Lions sleep away most of the day because it's usually too hot to hunt.
Sunlight also foils most efforts to sneak up on prey.
If you want to see lions in action, I suggest you go on a guided night drive.
Did you know?

When African lions hunt as a group instead alone their success rate goes up from one successful stalk in six, to one in three.
Find more African lion facts like -
How do they plan and co-ordinate these hunts
How statistics indicate what prey they prefer etc.
Like this page?